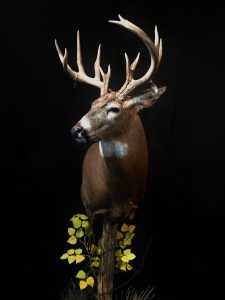 Welcome to Sunram Taxidermy, located in beautiful Detroit Lakes, Minnesota. If you are looking for the best work the taxidermy industry has to offer, at a reasonable price, you have come to the right place.
Established by Leonard Sunram in 1973, Sunram Taxidermy has been bringing outdoor experiences back to life for over 40 years. Hunting, fishing, and exploring the outdoors is our way of life. With a background in artistry, we have spent a lifetime studying and gathering references from all our wild places. This, combined with years of tireless work and continually seeking new innovations has projected us forward to become leaders in our industry. Having competed for several years at a very high level, we have become masters of our trade.
Garrett Sunram has achieved seven Masters State Champion Titles with his Marco Polo sheep in 2013, Whitetail in 2014, and Aoudad sheep in 2016. Our attention to detail and extensive knowledge of animal anatomy gives our customers a unique, one of a kind piece of art for their home. We will customize any mount to meet your needs. Not only do we specialize in local wildlife, but Sunram Taxidermy regularly mounts game from all reaches of the globe. From the plains of Africa, to the Himalayas, to the mountains of New Zealand, we have done it all!